---
K3
April 2017
(Pictures of my creations can also be found in my BrickShelf folder)
---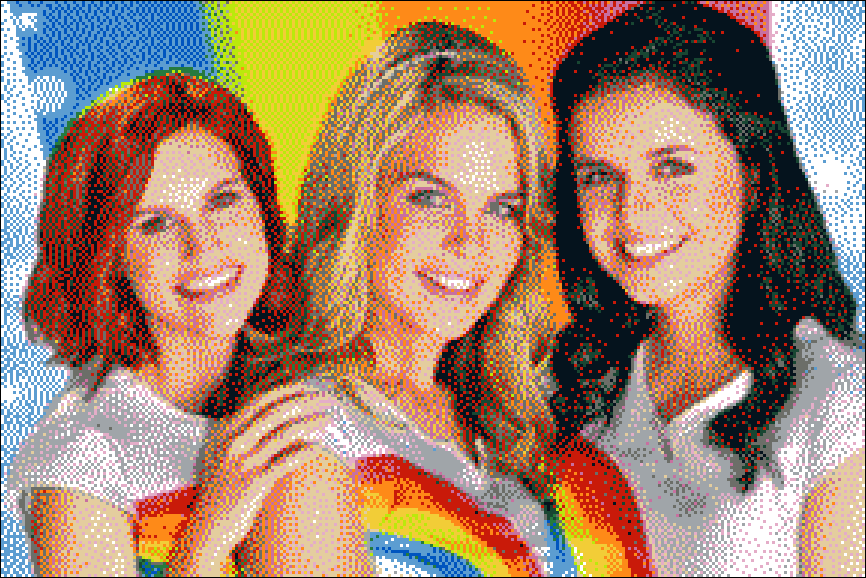 1. Introduction
Back in 1999 three young ladies (Kristel, Karen & Kathleen better known as K3) participated in the Belgian preselections for the Eurovision Song Contest. Despite negative feedback from former MTV-VJ Marcel Vanthilt their song became a hit, followed by many other hits. The band became a phenomenon in Belgium and The Netherlands. In 2009 Kathleen left the band and was replaced by Josje. In 2015 the entire line-up was changed (Marthe, Hanne & Klaasje), keeping the bands name K3.
I have three daughters for whom I've been a housefather for almost nine years: I've sung lots of K3-songs for/with my girls... So why not turning a K3-image into a mosaic? And how?...
In 2014 I spent a weekend in LegoLand GŁnzburg with my children. We were lucky: during that weekend LegoLand organised a mosaic building project for the visitors of the park. Everybody who joined in received a painted 6x6 plate. The idea was to fill the plate with 1x1 bricks corresponding to the painted colours. Finished plates were then placed on a huge wall in the row/column corresponding to the numbers found on the backside of the plate. By the end of the weekend a cool image appeared. My daughters had more fun building than taking rides on the attractions the entire weekend...
Why not organising a mosaic building project during a BeLUG club event? I have the mosaic building skills, so I could lead the project. I talked about it with the board members, but unfortunately a project like this would be too expensive for the club. Even if we should do it on multiple occasions. Bummer...
I decided to take matters in my own hands, and started collecting the necessary parts. I already had lots of bricks, I still needed lots of large baseplates, 6x6 or 8x8 plates, a laminator (for reusable building instructions) and lots of zip bags (to avoid theft builders would only receive the necessary parts to finish one plate). My building instructions for a complete mosaic were cut in smaller parts (lots of copy-paste...), row- and column-numbers were added, and the building instructions were printed (which required many cartridge refills...) and laminated. Zip bags were prepared, with many thanks to my daughters who helped out a lot in this stage of the project! I estimate it took already more than 200 hours of preparation-time only!
2. Images
Left: 24 large baseplates, divided in 864 (!) 8x8 parts with a marker pen. My wooden structure could also be used to hold the background in position.

Right: 864 zipbags containing one 8x8 plate, a small building instruction and the necessary parts to finish the plate.
One side of the building instructions is in Black & White to clearly distinguish were to put 1x1, 1x2 or 2x2-bricks, the other side is in colour and can be used to verify your creation (below).
3. YouTube video
Many thanks to fellow club-member Bart Van Laere who let me use his GoPro cams to make this timelapse video of our building project!...
---
The image of K3 was used with kind permission of Studio100.