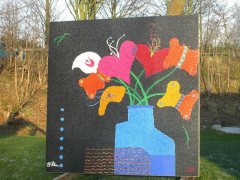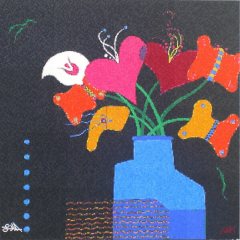 My program is more or less satisfactory, so now I have to find myself a good subject for a mosaic. Regardless of the subject, the mosaic had to fulfil following conditions:
I wanted to make a really big mosaic, at least one square meter (more than 10 square feet) because my collection colourbars had grown significantly.
It had to be a very colourful mosaic. Unfortunately I had large amounts of black colourbars, so I also wanted the mosaic to contain as much black as possible.
Besides I didn't want to buy lots of extra material for my mosaic. At this point I still wasn't sure I would go through with it (there is a big difference in making plans and actually execute them).
Adi Steurbaut (my father) has released an artbook in 2001 with a nice overview of his painting carreer. If I choose a painting from this book, I could spare myself the trouble of scanning a picture (no chance of loss of contrast, brightness,...). With the permission of the author I recieved the sourcefile from the printing-office.
General info:
Size of the original painting: 60x60 cm (24x24 inches)
Size of the mosaic: 120x120 cm - 288x288 pixels (48x48 inches) (to preserve as many details as possible)
Designed: May 2002
Finished: November 2002
Plates: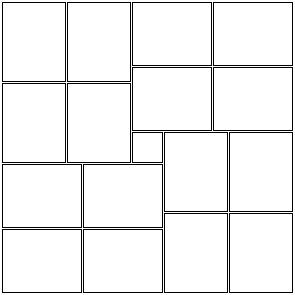 Total amount of colourbars (1 package contains 5 colourbars):
601 black: 96x
602 dark blue: 8x
603 medium blue: 12x
604 medium green: 2x
605 dark green: 3x
606 red: 5x
607 orange: 8x
608 yellow: 1x
609 beige: 1x
610 light brown: 1x
611 medium brown: 1x
612 dark brown: 1x
613 white: 3x
614 light grey: 1x
615 light pink: 1x
616 dark grey: 1x
617 olive: 2x
619 flesh: 1x
620 purple: 1x
621 light green: 1x
622 corn: 5x
623 dark pink: 7x
624 light blue: 1x