The mosaic of my children was getting a bit out of date, so I thought it might be a good idea to have it replaced, this time with three children.
Just like the previous one, this mosaic was made with the nine brown-shades from the old ministeck Porträt-Studio boxes. I added black and white because I feared I wouldn't have enough material to finish this mosaic (this one is much bigger). I used eleven colours to make this mosaic.
Whether it's brown-shaded or gray-shaded, these mosaics are made from grayscale pictures. The darkest pixels are turned into the darkest colour, the lightest pixels are turned into the lightest colour,...
In fact, these mosaics are a lot easier to build than coloured ones where a dithering method is required to obtain good resolution (especially on photos).
General info:
Size of the mosaic: 80x100 cm - 192x240 pixels (32x40 inches)
Designed: March 2004
Finished: May 2004
Plates: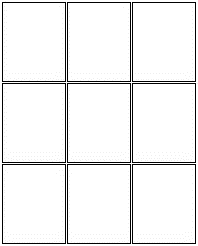 Total amount of colourbars (1 package contains 5 colourbars / the brown-shades where never sold seperately, I used 5 basic boxes in total):
black: 5x
brown 9 (dark): 8x
brown 8: 6x
brown 7: 6x
brown 6: 7x
brown 5: 6x
brown 3+4: 15x (two seperately packed colours without visible difference)
brown 2: 6x
brown 1: 11x
brown 0 (light): 11x
white: 7x